Yey! Finally got Heat Guy J: Revolutions. The last in the series. I gotta say that this was a good series and the story line flowed nicely. I do wish there was some more Boma action in there, but for being a secondary character what do you expect? (and of course, me being a Boma fanatic) I don't want to say too much, in case anyone reading this hasn't seen it yet. I am generally pleased with the ending. Hmmm . . . anything else to say? There are some really good Boma shots on this disc. Monica being sarcastic as ever, Edmundo and Kyoko worrying about everything, and Parsley just standing around watching it all. Eh, JUST GO AND WATCH IT!! ;^P
Boma
at
9:36 PM
Chrono Crusade; Christmas time!

Boma
at
7:02 PM
Chrono Crusade; Minister Remington

Boma
at
7:01 PM
Chrono Crusade; Minister Remington

Boma
at
6:59 PM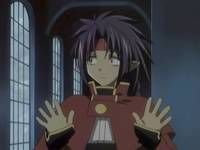 Chrono Crusade; Chrono

Boma
at
6:58 PM
Chrono Crusade; Chrono and Rosette

Boma
at
6:57 PM
Chrono Crusade; left to right, Azmaria, Chrono, Rosette, Satella (the summon jewel witch)

Boma
at
6:55 PM
Chrono Crusade; Rosette

Boma
at
6:53 PM
Chrono Crusade; Azmaria, left, Rosette, right

Boma
at
6:51 PM
'k, I finished Chrono Crusade (24 episodes) and I was addicted right from the beginning. Very good series but of course I alwasys have issues. I have yet to find a series in which I DON'T have issues. But anywho, this series is about Rosette Christopher who is a sister of the Magdalena Order. This Order hunts down and eliminates demons and devils and generally keep the info. of their existence away from the general public. Back to Rosette, she and her brother were brought up in an orphanage, where her brother discovered he had the power to heal people but not himself. Every time he used his power he got weaker and weaker, so Rosette is very protective of him. One day when they were outside exploring, they fell down the side of a steep hill and they kept falling and falling until they plunged through the roof of an ancient cavern that led to a mysterious door that opened at their touch. Inside was a tomb and a strange creature with pointy ears who said he was a "devil". He expected them to run away in fear, since devils are considered evil. Instead they were totally enthralled by him and they quickly became friends. Not that long after their friendship began, the orphange was attacked by demons. Rosette ran to get Chrono (that's who was in the tomb) while her brother was stuck in bed. In the end, her brother is wisked away by a demon named Aion who is a former friend of Chrono. Everyone else in the orphange is petrified. For years after this incident, Rosette and Chrono search for her brother through their association with the Order. The big plot is, Aion revolting against both Heaven and Hell to redo the whole order as he sees fit. To do this he needs to round up the seven apostles and reinact a certain ceremony. A side note about chrono. He lost his horns so he can't properly control his powers. So he uses this clock in which he has a contract with a human a.k.a. Rosette. With this contract he transmits energy from her soul to power so he can turn into his true form and contend with the other demons. The longer he uses this power the more energy from her soul the shorter her life will be. So he's literally sucking her life away. He, by no means, wants to do this. He doesn't want to hurt her like what had happened previously . . . So I DO recommend this series. But I have to issues with it, well actually three. One they should have built up Minister Remington's character a bit more. Let him through his weight around a bit. Secondly, the last battle should have been longer, a little more suspenseful. And thirdly . . .
*spoiler* *spoiler* *spoiler* *spoiler* *spoiler*
I am confused about how Chrono dies. He doesn't have horns for energy and without energy he dies. That I get, but he was in that tomb for how long? and he didn't die then? Ugh. Anyway, enough of my rants.
*end of spoiler* *end of spoiler* *end of Spoiler* *end of spoiler*
I do approve of the ending. It' sone of the few series' endings that I actually enjoy. So far it's only available as a fansub, but there is an english version of the manga available. There's some screencaps I took, above. Enjoy!
Boma
at
5:28 PM
Noir; Mireille Bouquet

Boma
at
9:41 PM
Noir; Kirika Yuumura

Boma
at
9:40 PM
Noir; Kirika Yuumura

Boma
at
9:39 PM
Noir; Mireille Bouquet

Boma
at
9:36 PM
Noir; Mireille flashback of the lake

Boma
at
9:35 PM
Noir; Mireille Bouquet

Boma
at
9:34 PM
Noir; Kirika shoots

Boma
at
9:33 PM
Noir; Kirika attacks

Boma
at
9:31 PM
Ok, I just finished Noir volume 4. Now Noir isn't my favorite series only because it isn't my preferred genre. This, I guess, you would call action with some mystery tossed in for good measure. The animation is average, not great but not horrible either. The characters are good and slowly developing. The music is fantastic in this series though, one of the best scores I've heard. The opening theme itself it's worth watching over and over again. Then the music sequences during the anime itself are energetic and fast moving. Each one fitting the scene to a "T". Ok, before I go any farther perhaps a rundown. From what I gather there are these two girls, Mireille Bouquet and Kirika Yuumura, and they are lethal assassins. This combo has taken the code name Noir which elicits fear in their targets because Noir is known for getting the job done no matter what. Now Mireille, the older, original assassin, has dreams and flashbacks of her youth. To what end I am not quite sure yet. Then along comes Kirika. She has no memories of her past, her parents, friends or anything but she has the refined skills of an assassin and she has no idea how she acquired them. So next to doing their assignments, it's a journey to uncover their pasts so as to pursue their futures. So now the only thing that kinda bothers me is Kirika. She is soooo quiet and shows very little if any emotion. In one episode (spoiler, spoiler, spoiler) she befriends an artist in the park. Later on he is shot down in the street, when the shooter was aiming for her. So now her new friend has been gunned down in the street, she's holding him as he dies, does she cry in grief? Does she start shaking with rage? Nooooooo. Nothing. zip. nadda. Granted, she and Mireille go and take out the shooter and his cronies but only because there was a hit out on them, soooooo. I'd reccommend this if you like strict action, but sometimes you'll have to watch this with no distractions. There are screencaps up above as a sample.
Boma
at
8:28 PM
Ok, I need some help with this. I want to start up an "All I need to know I learned from anime" Does anyone have any suggestions? Contributions?
Boma
at
11:17 PM
I was just reading this month's Animerica. There is an article about the passing of Ritsuko Okazaki, 44, from a blood poisoning illness. You might know her better, though, as the writer and singer of the opening and closong themes to Fruits Basket. For more info. look in Animerica vol. 12, no. 7, page 21.
Boma
at
10:56 PM
Midori No Hibi; ummmm?

Boma
at
10:40 PM
Midori No Hibi; Need clothes!

Boma
at
10:39 PM
Midori No Hibi; Discovery

Boma
at
10:39 PM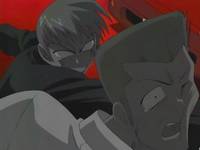 Midori No Hibi; Fighting as usual for Seiji

Boma
at
10:37 PM
Midori No Hibi; Shot down again Seiji

Boma
at
10:37 PM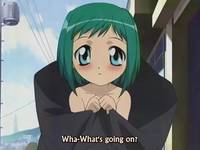 Midori No Hibi; Tiny, Right Hand Midori

Boma
at
10:36 PM
Midori No Hibi; Midori at the train station

Boma
at
10:35 PM
Ok, I just watched Midori No Hibi all the way through. There's only thirteen episodes in this one. Ok, characters let's seeee . . . Seiji "Mad Dog" Murasawa. He's a punk, a delinquent, getting into fights everyday. Everyone in school is scared of him and totally freak out whenever he comes by. They avoid him like the plague. But he's not that bad a guy. He desparately wants a girlfriend and a normal school life (but mostly he wants a girlfriend), but since everyone is scared of him they all turn him down. So he's all alone. (He kinda reminds me of a younger Onizuka from GTO). Then there's Midori Kasugano who is extremely shy and quiet. She keeps all her emotions bottled up. Let's just say she's not much of a public speaker. But she has a major crush on Seiji. She always sees him at the train station and she knows his reputation (even though they go to separate schools). But she knows he never goes after those weaker than him and he sticks up for his friends. She never gets the courage to go up and talk to him. So while Seiji is moping in his room he here's a girl's voice. He looks down and there she is! except his "Devil's Right Hand" is now a tiny Midori. Then the screaming begins. So will Seiji ever get past the "bad boy" image and accept Midori? Will Midori ever come to terms with her emotions? Sooo, yeah, I know this sounds a bit weird but it's good! I got this as a fansub, I can only hope that it gets licensed over here. The Japanese Voice casting is really good, they put a lot of effort into their characters and it shows. The animation is clean with vibrant color. I recommend this. Oh, by the way, this is a romantic comedy. There are some screencaps to show what I mean!
Boma
at
10:04 PM
I added Inuyasha Screencaps! YEA! I could have gone on forever with those but it's a pain to organize them, transfer them to .jpg's and then writing a caption for so many. But Oh Well! I picked the best ones from my stash. Hope you enjoy!
Boma
at
12:23 AM
ok, I've been bad. Haven't updated this thing in quite a while. I have added yet more wallpapers and some more screencaps, if anyone's interested. I ordered Midori no Hibi and Chrono Crusade, so hopefully in a week or two I'll post about them. I started listening to the Wolf's Rain soundtrack, music by Yoko Kanno who did Cowboy Bebop. I really like the opening and closing tracks, but still have to listen to the rest of it to get an opinion. I do remember liking the Bebop tracks. Here's a question to anyone out there reading this, what's your favorite soundtrack? My favorite is the Best of Inuyasha, then the Fruits Basket: Memory of You. I still haven't gotten Witch Hunter Robin Soundtrack which I want and also Heat Guy J. OH! OH! but before those I'm itching to get my hands on the Best of Saiyuki soundtrack. Can't find it anywhere. Hmmm . . . maybe Ebay . . . oh well, maybe later. Well I have to go back to work, yea! (blah) Let me know about the soundtracks out there!
Boma
at
1:57 PM
New wallpapers added under My Wallpapers!
Boma
at
12:18 AM
I added a section of wallpapers that my friend Kim made. Go and take a look! Let me know what you think! Oh, and I'm going to start up a screencap section by series.
Boma
at
7:49 PM
Ninja Scroll the Series; Jubei, picture obtained from the main site.

Boma
at
11:41 PM
I would've written more sooner but I've been going amv crazy. If anyone is looking for amv's on any series go to www.animemusicvideos.org Some really talented, obsessed people over there.
Ok, I've been checking my stats and it would seem people are looking for screencaps. Let's see . . . here's a list of the series I have. If anyone is looking for something specific let me know and I'll put a page together to post them.
GTO: box set #1, Heat Guy J, Slayers/Next/Try, Ah! My Goddess the Movie, Angel Sanctuary, Argentosoma, Bastard!, Blood: the Last Vampire, Blue Seed, Blue Seed: Beyond, Castle in the Sky, Castle Cagliostro, Chobits, Cowboy Bebop: Best Sessions, Cowboy Bebop: the Movie, Darkside Blues, Earthian, Escaflowne the Movie, Excel Saga (first 2 discs), Fruits Basket, Full Metal Panic, Galerians: Rion, Haibane-Renmei, Hellsing, Inuyasha, Kiki's Delivery Service, Last Exile, Lupinthe 3rd: The World's Most Wanted, Magic User's Club, The New Tank Police, NightWalker, Ninja Scroll the Movie, Orphen, Princess Mononoke, Pretear, R.O.D., Saiyuki, Samurai Deeper Kyo, S-Cry-ed, Spirited Away, Tenchi Muyo O.V.A., Tenchi Muyo In Love, Twelve Kingdoms, Ushio and Tora, Vandread (first 2 discs), Witch Hunter Robin (first 4 discs), Yu Yu Hakusho (no Dark Tournament yet . . . ), Zenki, Wolf's Rain, Dragon Drive, Texhnolyze (first disc), and Azumanga Daioh (first disc)
Ok, there it is. My list. My baby. Let me know of any 'cap requests.
Boma
at
11:33 PM
Ninja Scroll the Series; Shigure; picture from the main site.

Boma
at
11:33 PM